WORK AT PLAY. PLAY AT WORK.
PLAY IS THE MEANS BY WHICH ALL PEOPLE LEARN & DEVELOP.
---
BRING SOME PLAY TO YOUR DAY.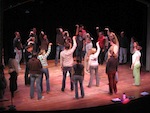 Book an Appointment or Workshop
A POP workshop is a fantastic way to help people to better connect as they discover the wealth of resources that are available in every moment of every day.
contact us
OUR SKILLS & SERVICES
One-on-one Coaching
Workshops
Business Consulting
Health & Healing
Team-building
Education
Mindfulness & Movement
Rediscover Resources